Members list
Category
Organization Name
Promotor
Belonging Work Group
Manufacturing
Logistics
Common
General members
NEC Corporation
●
●
●
●
Oki Electronic Industry CO.,Ltd
●
 
●
●
BIRD INITIATIVE, Inc.
●
●
●
●
Supply Chain Information Platform Study Group
 
 
 
●
ITOCHU Techno-Solutions Corporation
 
 
 
●
NEC Solution Innovators, Ltd.
 
●
●
●
ABeam Consulting Ltd.
 
 
 
●
Intent Exchange, Inc.
 
●
●
●
User members
Toyota Tsusho Corporation
●
●
●
●
YUSEN LOGISTICS CO.,LTD.
 
 
●
 
VAIO Corporation
 
●
 
 
JAPAN INDUSTRIAL LOCATION CENTER
 
●
●
 
KIKUCHI SEISAKUSHO CO. ,LTD.
 
●
 
 
MITSUBISHI HEAVY INDUSTRIES, LTD.
 
●
●
 
NEC Platforms, Ltd.
 
●
●
 
NISSIN CORPORATION
 
 
●
 
NEXTY ELECTRONICS CORPORATION
●
●
●
 
TOYOTSU LOGISTICS SERVICE CO.,LTD
 
 
●
 
ITOCHU INTERACTIVE CORP.
 
 
 
●
TMIP(Tokyo Marunouchi Innovation Platform)※
 
 
 
●
SURUGA SEIKI Co., Ltd.
 
●
 
 
ANA Cargo Inc.
 
 
●
 
HIRAKAWA HEWTECH CORP.
 
●
 
 
STAR ELECTRONICS Co.,Ltd.
 
●
 
 
Shinano Kenshi Co., Ltd.
 
●
 
 
FURUKAWA SANGYO KAISHA, LTD.
 
●
 
Academic members
Atsumi & Sakai Legal Professional Corporation
 
 
 
●
Katsuhide Fujita, Associate Professor, Tokyo University of Agriculture and Technology
●
 
 
●
Katsuhiro Nishinari, Professor, Tokyo University
 
 
 
●
Kiyoshi Izumi, Professor, Tokyo University
●
 
 
●
Koji Tsumura, Associate Professor, Tokyo University
●
 
 
●
Takanobu Otsuka, Associate Professor, Nagoya Institute of Technology
●
 
 
●
Hiroko Kudo, Professor, Chuo University
●
 
 
●
Japan Innovation Park General Incorporated Association
 
●
●
 
National Institute of Advanced Industrial Science and Technology
 
●
 
 
Takayuki Ito, Professor, Kyoto University
 
 
 
●
※ TMIP is an open innovation platform operated by the Daimaru Environmental Symbiotic Community Development Promotion Association. Through participation in this consortium, we will provide opportunities for participation and cooperation in this consortium activities to companies.
Membership Classification
Members are divided by category (role) as well as by the WG to which they belong.
Membership Classification
Key roles
Key roles

Hearing of issues/elemental technologies
Proposal of solutions to solve problems
Proposal of PoC(Proof of Concept)
WG activities in general

User Members

Share of issues
Investigation of feasibility study for solutions/PoCs
Participation and support for PoCs

Academic Members

Support from academic points of view
Officers
| Post | Allot |
| --- | --- |
| President | summarize the affairs of the Board. |
| Vice President | assist the President and, in the event of an accident with the President, act on behalf of the President. |
| Director | execute the business of Consortium. |
Organization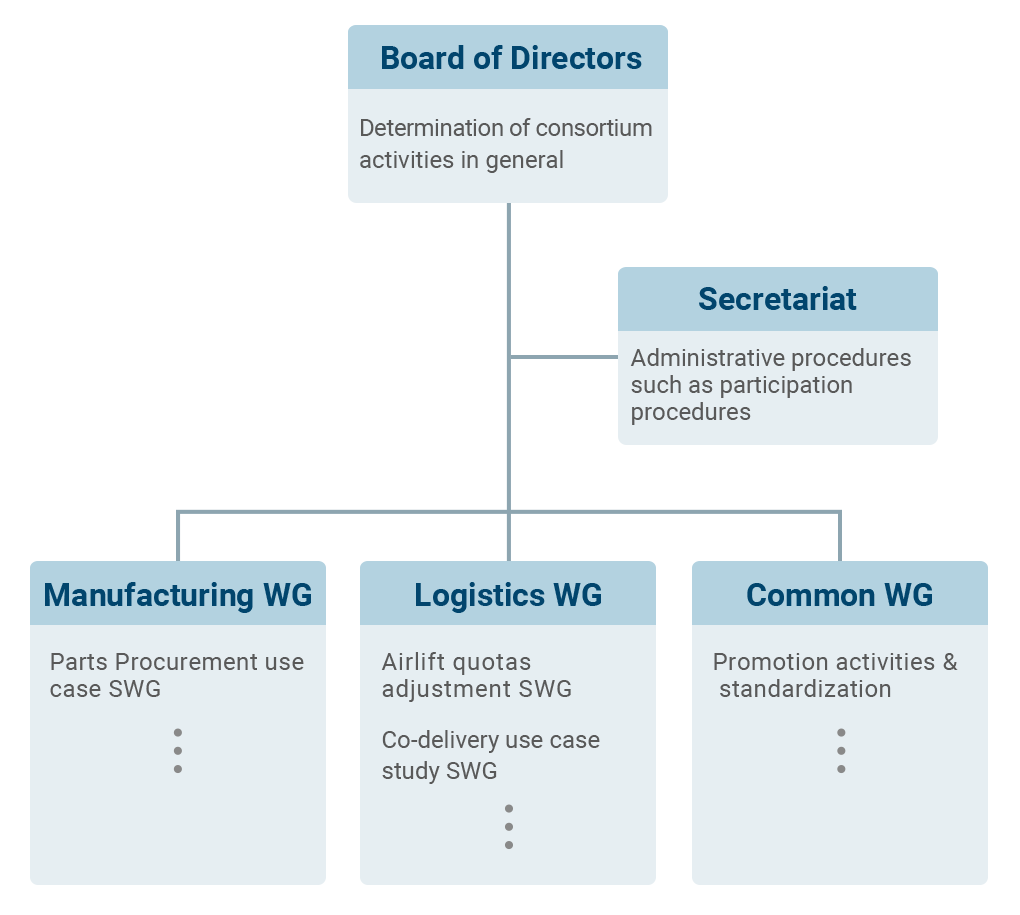 Working Group(WG)
Actual activities of the consortium
Manufacturing WG
Logistics WG
Common WG
We will establish Use case Sub-WGs for each WG